About project OSTlib.com
OSTlib was primarily intended as a database of officially released CD and LP records from two areas of film music in which I'm most interested as a soundtrack collector - music from the Japanese animated and feature films and music from the Czech and Slovak film.

My purpose was not creating a complete database of all soundtracks, but rather a tool that could be used to easily and transparently create discography of these areas that have currently so little space on internet.

Today, the focus of my interest shifted more to the Czech and Slovak film music, amongst other reasons because there are now quite good and up to date sources on Japanese music and because of my other projects I was not able to keep pace. However the site is still running since it still contains some unique information and who knows, maybe I'll start expanding it again.
Unfortunately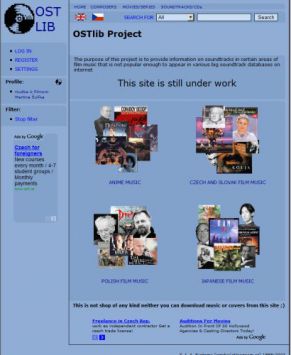 it is easier to keep pace with officially released Czech film music. I've said "Unfortunately," because this music is not commercially attractive, and therefore there are very few releases of new music and even less releases of music from older movies. Nevertheless, I believe that many visitors are interested in what Czech film music was officially released and for them there is site cs.ostlib.com/en/ - Czech and Slovak film music.

You are currently viewing second version OSTLibu, which I've launched after several years without updating the first version. I hope that with this new site it will be easier to maintain information on the Czech film music and keep it as up to date and as complete as possible.
Ondřej Zicha (ondrej.zicha@gmail.com, http://www.zialib.com/), last update on 15th April 2011